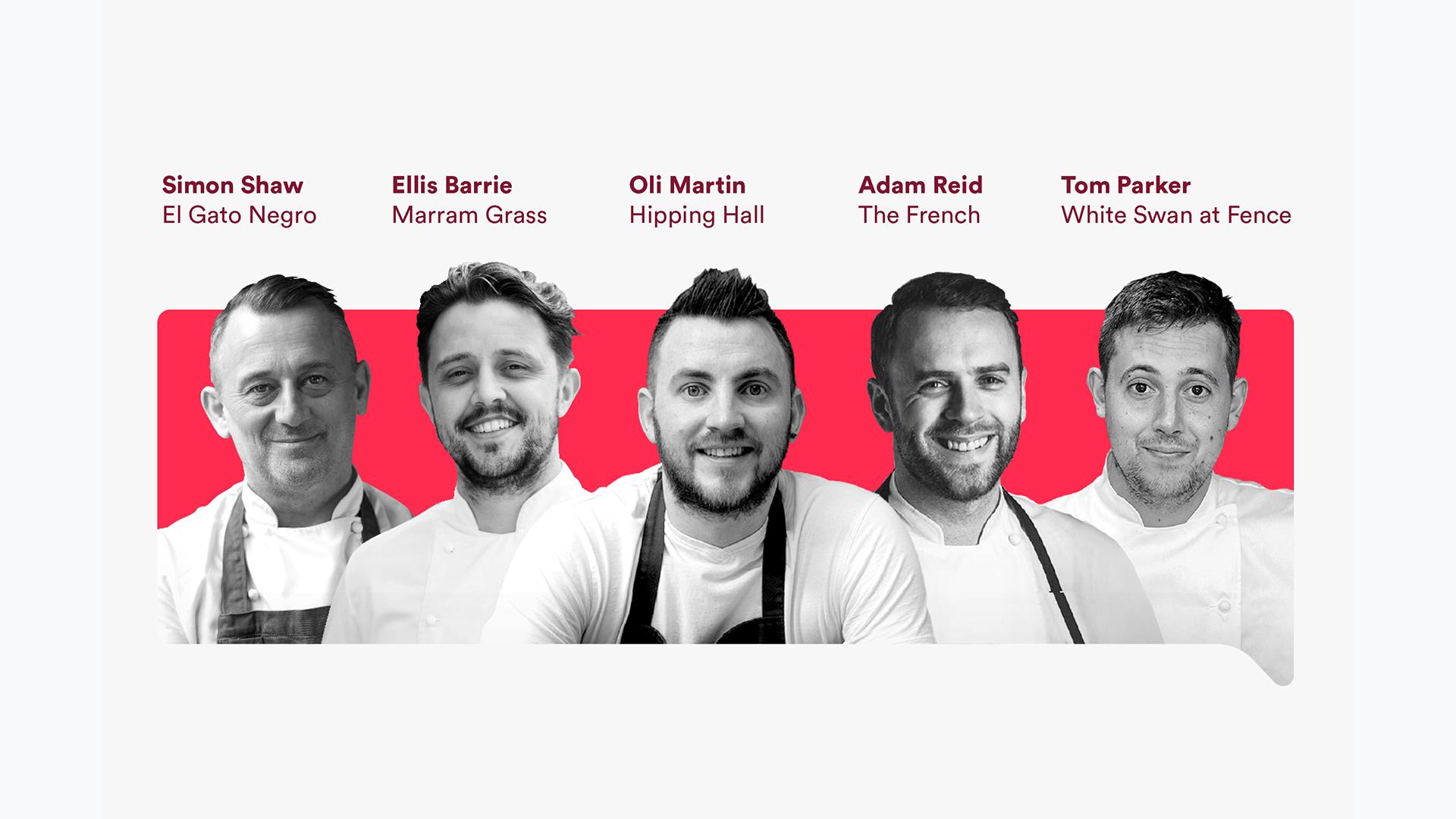 A 'dream team' from the North's finest chefs is to operate the celebrity kitchen for a fundraising dinner at Liverpool's Hilton Hotel on Monday 14th October in aid of Hospitality Action.
The annual 'Northern Lights' event, which has been held in Manchester for the past two years and has raised £37k, will start with a cocktail and canapé reception before guests are treated to a truly stunning five course dinner prepared by five of the region's best award-winning chefs.
Mark Lewis, Chief Executive of Hospitality Action said: "We're excited to be hosting some of the North's most decorated and well-known chefs who will be joining forces to create a truly memorable menu. Northern Lights is one of the most important events on our calendar and I'm delighted to see hosted against the backdrop of Liverpool's iconic skyline. The money raised will go towards helping industry people who find themselves in crisis"
The host for the evening will be Paul Askew, Fellow and Chairman in the North of England for the Royal Academy of Culinary Arts and Chef Patron of the multi award winning Art School Restaurant.
A host of sommeliers from the region including Sarah Donoher, Head Sommelier at The Art School Restaurant in Liverpool and Filippo Zito, Deputy Manager and Somellier at Tast Cuina Catalana by Paco Perez will be on hand to share their knowledge.
Marcus Magee, General Manager at Hilton Hotel Liverpool city centre, said "We are delighted that this prestigious event is taking place in Liverpool and I am thrilled that myself and the team at the Hilton Hotel are hosting it"
The kitchen team:
Starter – Oli Martin, Hipping Hall, Lancashire
3 AA Rosettes
Fish Course – Ellis Barrie, Marram Grass, Anglesey
2017's finalist of BBC's Great British Menu and 2 AA Rosettes
Main Course – Adam Reid, The French, Manchester
2019's main course winner of BBC's Great British Menu and 4 AA Rosettes
Pre Dessert/Cheese Course – Simon Shaw, El Gato Negro, Manchester
Chef Patron / Creative Director
Dessert – Tom Parker, White Swan at Fence, Lancashire
1 Michelin Star and 2 AA Rosettes
Tickets for the Northern Lights Fundraising Dinner are £125 per person or £1,200 for a table of ten.
The price includes: cocktail and canapé reception, five course dinner, matched wines, coffee and petit fours.
The after party will take place in the Pima Bar at the Hilton Hotel with drinks, cocktails and live music until the early hours.
For tickets – contact Maria Carter on 020 3004 5516 or at mcarter@hospitalityaction.org.uk
To find out more – visit www.hospitalityaction.org.uk/events
* * * * * *
Chef Biographies
Ellis Barrie
Co-Founder and Executive Chef of The Marram Grass in Anglesey, North Wales
Liverpool-born Ellis Barrie began learning his craft at the age of 12 with junior cookery courses at his local community college. Three years later he was beside Chris Marshall at the two AA rosette Raddison Blu Filini in Liverpool and went with him to the city's Panoramic 34 where he learned many of his cooking principles. After a break in Australia – working on a farm, picking fruit and vegetables and learning more about food provenance – he returned to help run the café at his father's caravan site on Anglesey. In 2011 Ellis and his brother Liam re-launched the 40-cover café as The Marram Grass where their hearty, rustic menus began earning accolades including 'Best Bistro/Brasserie of the Year' at the Anglesey Tourism Awards, a 4/10 in the Waitrose Good Food Guide, a coveted Acorn award by the Caterer Magazine and, this year, two AA Rosettes. In 2014, the late Sir Terry Wogan featured the brothers on his BBC 2 series 'Terry and Mason's Great Food Trip' and, since then, the restaurant has appeared on Michel Roux Jr's 'Hidden Restaurants' on Channel 4 and Julia Bradbury's 'Best Walks With A View'. Praise from national food critics, worked up to the BBC's 2017 Great British Menu competition where Ellis represented the North West region and narrowly missed out on the title.
Oli Martin
Head Chef at Hipping Hall Hotel & Restaurant, Lancashire
31, originally from Lytham, Oli has worked at the likes of Northcote, Blackburn and the Gilpin Hotel, Crook, as well as in France and as far afield as Sydney, Australia. Oli quickly worked his way through the ranks, and by 2013 he landed the role of sous chef at Hipping Hall, where after a year behind the stoves, at the tender age of 26, he was offered the job as head chef. With over twelve years' experience behind him, Oli took it all in his stride, quickly making the position his own and bringing his own food philosophy to life.
Oli's food repertoire draws on his classical training and his own progressive cuisine style. Add fresh local ingredients into the mix and you begin to get an understanding of the creativity displayed in Oli's food, his passion and his natural ability to bring together flavour and texture and let them sing.
A lot of Oli's dishes stem from a focus on seasonality and local produce. Again, his childhood plays a significant part in this, after all he is immensely proud to have grown up in Lancashire, a county with a very distinct food heritage of its own.
Tom Parker
The White Swan – Fence TOM PARKER
Gareth & Laura Ostick & Tom Parker – Chef opened up new restaurant in December 2013, and went about changing it from a small local's pub to a fine dining pub/restaurant.  After just over 12 months hard work, Jay Rayner wrote an amazing review of The White Swan for The Guardian (Feb 2015).
Since then, the White Swan has been awarded:
Michelin Bib Gourmand – 2015, 2016, 2017
1 Michelin Star – October 2018
2 AA Rosettes – 2015, 16, 17 & 18
Top 50 Gastro pubs in the UK (48) 2017, (19) 2019
Good Food Guide Rated 6 2016, 17 & 18
Lancashire Life Restaurant of the Year – 2016
Manchester Confidential top 100 – (11) 2018
And Tom Parker has appeared on The Great British Menu representing The North West in 2017.
Adam Reid
Chef / Patron, Adam Reid at The French, Manchester
Since training at Paul Heathcote's School of Excellence Manchester-born Adam Reid rose to be Chef de Partie at the Bridgewater Hall, Manchester before moving across the city centre to Le Mont … going down to the Michelin-starred Mallory Court Hotel in Warwickshire … becoming Senior Sous Chef at the Michelin-starred Simon Radley at The Chester Grosvenor and moving to Brockencote Hall in Worcestershire. Adam came back to Manchester as Simon Rogan's Head Chef for the launch of The French at The Midland Hotel. And within a year The Caterer's Acorn Award had recognised him among the hospitality industry's brightest young talents. In 2014 Adam was 'Manchester Chef of the Year' as The French was ranked no. 17 in the Waitrose Good Food Guide, won its third AA rosette and was rated no. 26 in Square Meal's Top 100 Restaurants. In 2016 Adam appeared in the BBC2 Great British Menu series and won a coveted place, with his spectacular dessert, at a Westminster Palace banquet to celebrate Great Britons of HM The Queen's reign. In 2016, when Simon Rogan left The Midland Hotel's two restaurant operations, Adam took the reins of The French and introduced new menus that showcase his own personal style of modern British cooking.
Simon Shaw
Chef Patron / Creative Director at El Gato Negro, Manchester
Simon is a highly experienced and respected restaurateur with over 35 years of experience, most notably as Chef Patron and Creative Director of El Gato Negro and formerly Executive Head Chef at Harvey Nichols.
Originally from Yorkshire, Simon rapidly worked his way through the ranks at some of the county's finest establishments before becoming the first Head Chef at Harvey Nichols' restaurant in Leeds. After a stellar stint there he was seconded to their London operations; first heading up the kitchens at Prism, the company's prestigious City of London restaurant, before moving to the flagship Knightsbridge store as Executive Head Chef. During this time Simon visited Catalonia and the Basque Country, falling in love with the diversity and excitement of modern Spanish cuisine.
Over the last decade Simon has been recognised in countless industry awards, with El Gato Negro one of the country's most celebrated modern Spanish restaurants.  In September 2018 Simon opened his second restaurant in Manchester, Canto; a neighbourhood restaurant serving modern casual tapas and drinks in Ancoats.  El Gato Negro will launch at Exchange Flags, Liverpool, this August and on Park Row, Leeds, in winter 2019.