A recent survey published in Insider magazine entitled 'The workplace will never be the same,' has revealed that the effects of the past year may have potentially changed the way we think about work and in particular the workplace.
Whilst that may seem a fairly natural observation, how it is likely to change may well be a surprise!
According to the survey, more than 40% of companies have spent the past 12 months transforming their business to meet the demands of the post pandemic work environment, with only 5% responding that their attitudes to working patterns remain unchanged.
With this transformation, new workplace trends towards greater working flexibility, the use of more collaboration space and increased use of office technology to streamline process are likely to be accelerated.
The survey reports that top of the workplace wish list is greater use of informal breakout areas, closely followed by improvements in connectivity speed, the need for natural light and cleaner and better circulated air.
Top of the workplace wish list
| | |
| --- | --- |
| Informal breakout areas | 38% |
| Super-fast connectivity | 33% |
| More natural light | 30% |
| Cleaner and better circulated air | 29% |
Over the coming months and years, organisations will inevitably need to re-evaluate their workplaces. As well as delivering more flexible working patterns and potentially incorporating greater home-working, companies will also have an increased responsibility to provide a more modern workspace inside the office. This means ideally creating a more spacious working environment with more light and cleaner air. Almost a third of respondents in the survey made more natural light and better air a top priority.
The need for cleaner air may appear obvious given the challenges most businesses have faced over the past 15 months. However, the issue is not simply about protecting against viruses. A simple, clean air solution can form a major part of the return to work strategy and help to reduce sickness transmission.
As modern structures become more insulated, the airflow becomes more compromised and at different times of the year, we are dealing with seasonal changes. Typical air pollutants are pollens, dusts, airborne spores, viruses (e.g. colds/influenza), vapours and other allergens.
As Pratik Thakker, Israel's Tech Ambassador to India, recently posted:
"An adult human can last:
40 days without food
7 days without sleep
3 days without water
5 minutes without air
Yet nothing is more taken for granted than the air we breathe."
So, as the workplace changes, it will become more and more vital that we look after the air we share. Cleaner air can no longer be viewed as 'nice to have' but undoubtedly an absolute 'must-have' in any modern workplace.
Along with our premier partner, Fellowes, Franking Sense®, is pro-actively advocating the move to cleaner workplace air through simple technology solutions. Fellowes has refreshed their range of workplace air purification products and have seen substantial worldwide growth of sales in this area.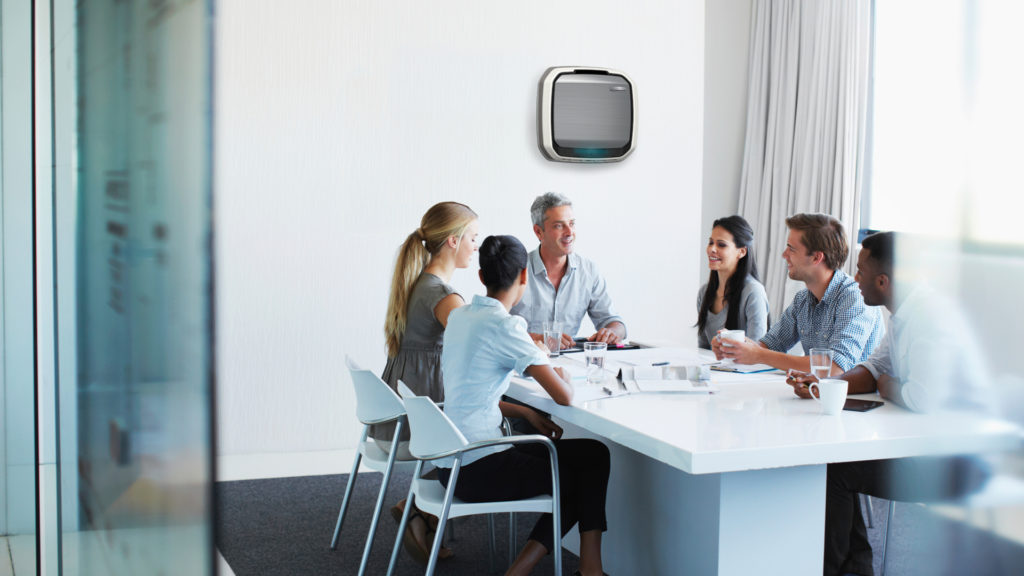 We have recently installed AeraMax technology at our Head Office, with units placed across our offices, showroom, rest rooms, canteen and training facility. We aim to deliver the cleanest air possible to our staff and visitors alike. It's our commitment to them to providing the best workplace possible.
Franking Sense® can offer a cost-effective and straight-forward turnkey solution, from survey, assessment and proposal, through to wall mounted installation by qualified technicians. For larger, multi-room installations, fixed term rental plans can be offered including service and filter replenishment as a managed service.
Take care of your air with a professional solution from Franking Sense®.
For more details, contact Franking Sense® on 01204 30 30 15
(For digital edition, visit https://www.nationwidefrankingsense.co.uk/office-equipment/aeramax-air-purifiers.html)