Now in its 11th year, the Cotton Court Business Centre Christmas Gift Appeal in aid of Barnardo's is back; bigger and better than ever!
We're asking you to help us make Christmas brighter for children and young people in Lancashire who are struggling as a result of the cost of living crisis.
We need your support to ensure that every child and young person supported by Barnardo's in Lancashire has a gift to open on Christmas morning.
There are 3 ways you can get involved:
Donate an unwrapped gift to one of the following donation sites:
Cotton Court Business Centre, PR13BY (9am-5pm, Monday – Friday )
Cotton Court Leyland, PR252YJ (9am-5pm, Monday – Friday)
Highfield Hybrid, Cottam (message via Instagram @highfieldhybrid for drop off times)
Bar Pintxos, PR1 2AR (12pm-9pm, Monday – Sunday  closed Wednesday)
Delishus, PR1 2NJ (10am – 6pm, Monday – Sunday)
Nuffield Health and Fitness, PR5 4AW (6am – 10pm, Monday – Friday, 8am – 8pm Saturday & Sunday)
Feltons Army Surplus Stores , PR1 6RE (8am – 3:45pm Monday – Friday, Saturday 8am – 1:45pm)
Simply set the delivery address to: Barnardo's Gift Appeal, Cotton Court, Church Street, Preston, PR1 3BY. Click here for gift ideas
Simply visit one of the websites below, and select a physical gift card, select the amount you would like to donate, and set the delivery address to: Barnardo's Gift Appeal, Cotton Court, Church Street, Preston, PR1 3BY.
Love2Shop
Lifestyle
Amazon
One4All
Please consider donating gifts for teenagers and young adults who are often overlooked when people donate Christmas gifts. We believe they deserve to feel special too.
Barnardo's has created a list of gift suggestions to make it easy for you to choose the perfect gift. Click here for the gift ideas list.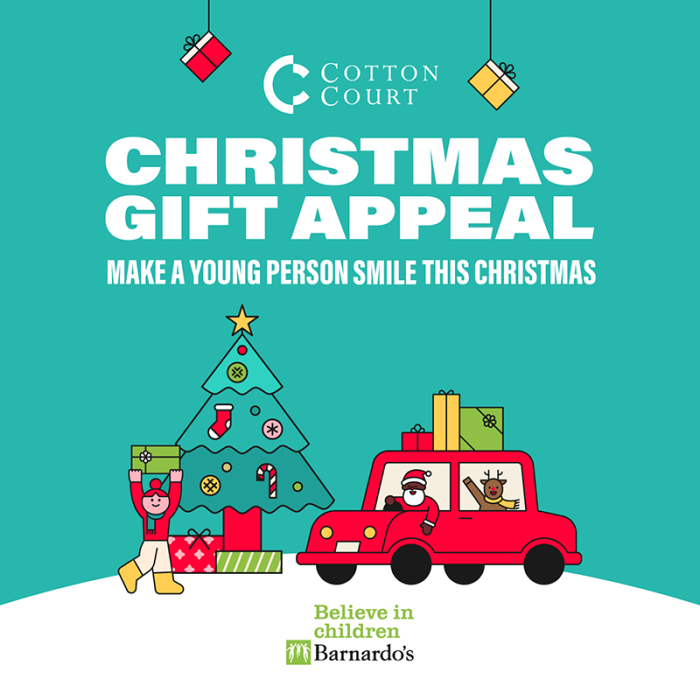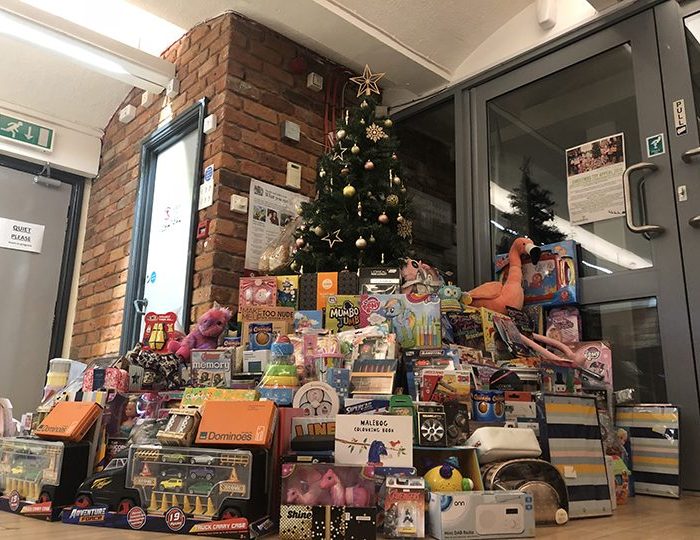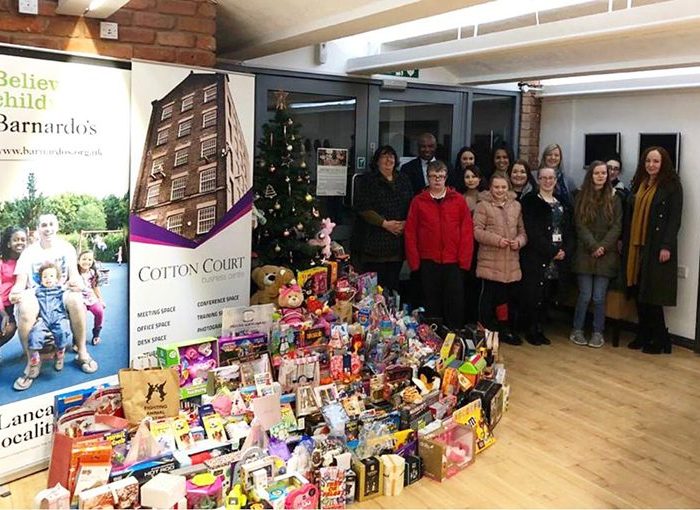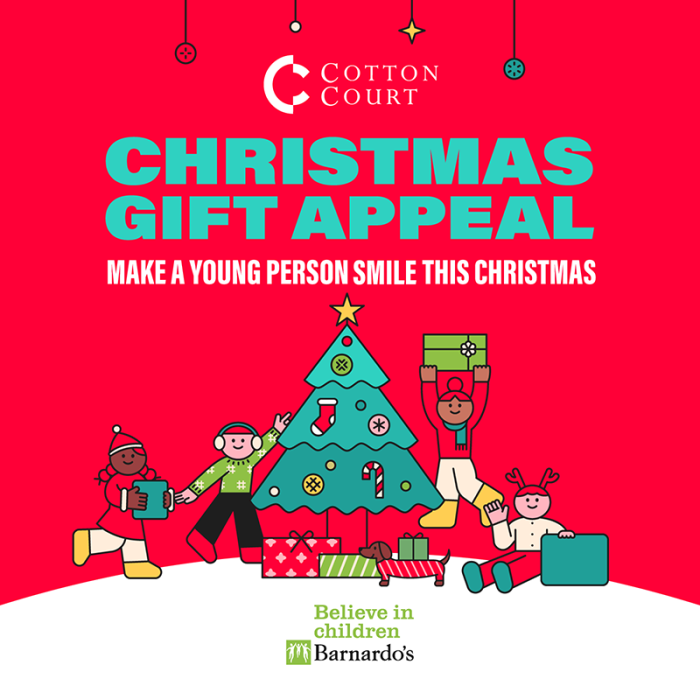 Debbie Nolan-Plunkett, Assistant Director at Barnardo's said
"Christmas is often taken for granted by children and young people who get caught up in the excitement and know Father Christmas will deliver on Christmas Eve. Not all children and young people have the good fortune to be able to expect presents and will often go without.
One parent last year was overwhelmed with the gifts she received as she had not been able to save enough money to buy gifts for Christmas due to being very poorly. She couldn't believe that total strangers had donated presents to give her children a lovely Christmas Day."
One of the young people expressed their gratitude for the gifts they received and said
"I didn't think I would get any presents I just thought I would be sitting in my room all day imagining Christmas for happy families"
Debbie also said "This gift appeal, organised by Cotton Court, really does give back the spirit and excitement of Christmas and allow all of the young people living in our accommodation in Lancashire to receive a gift.
Our staff teams love to see the excitement on young people's faces when they open their presents and feel the Christmas spirit. These gifts are also distributed to families who may be facing hard times especially given the cost of living rises and the extra financial challenges families face when they have a sick or disabled family member.
Our Lancashire Young carers and Break time services for children with disabilities have staff teams who are like elves at Christmas time distributing gifts across the County."
Together, we can make sure that every child and young person has a happy Christmas. Thank you for your support!