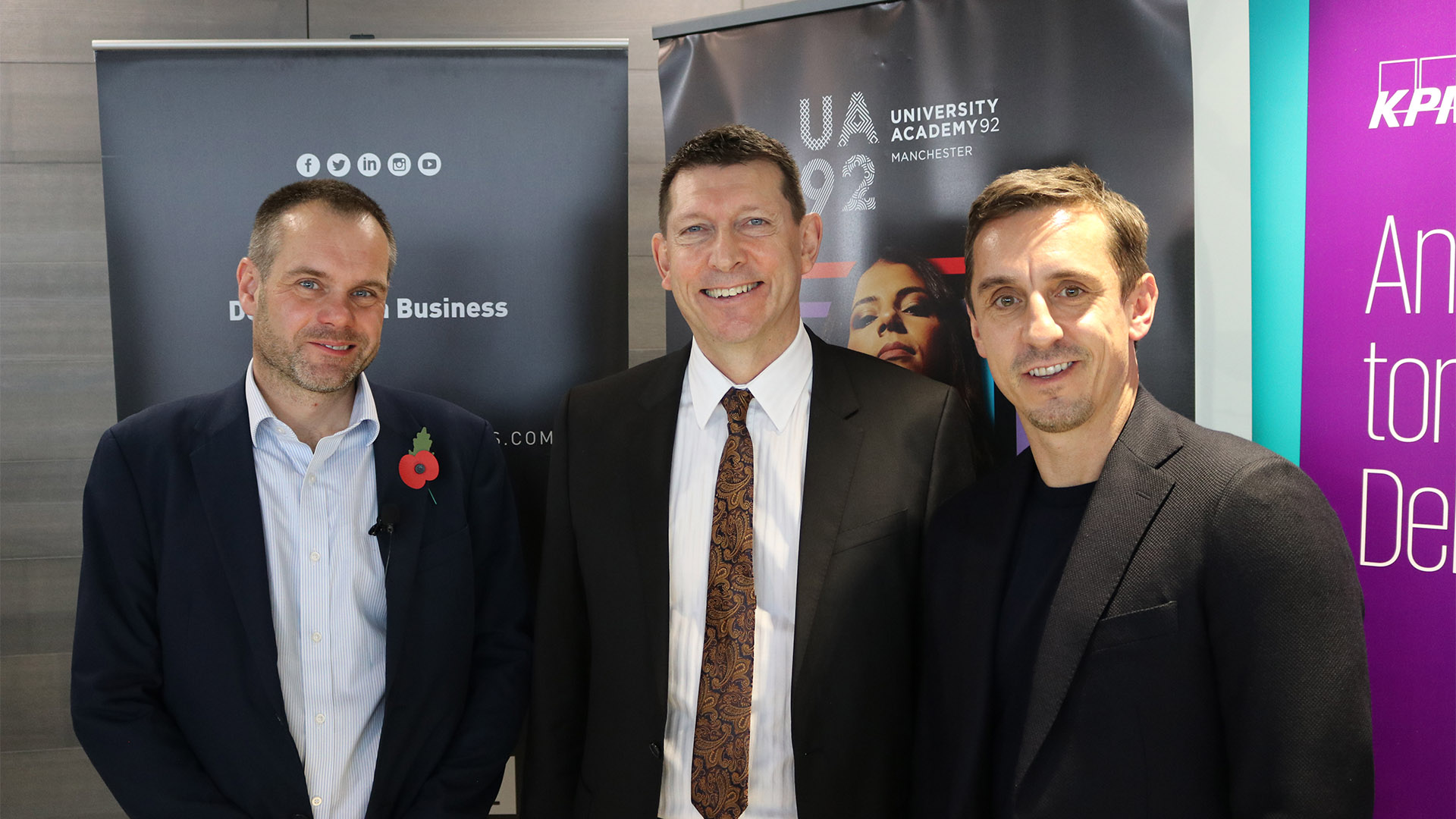 Downtown in Business hosted an event with Manchester United footballer turned entrepreneur Gary Neville at a special breakfast forum earlier this month.
The former England international discussed his career journey with Downtown boss Frank McKenna, telling a packed audience at event venue KPMG about his highs and lows, in sport and business.
In a wide-ranging conversation, the Sky soccer pundit described the influence his manager Sir Alex Ferguson had on him – on and off the field – the reasons he was establishing a new kind of educational institution UA92, and his ambitions for his multi-million-pound St Michael's regeneration project in the heart of Manchester.
Talking about leadership Neville said:
"I think there are different type of leaders and I believe that it is wrong to suggest that there are fewer leaders nowadays. For instance, Roy Keane was a great leader because he would clench his fists, pump his chest and shout at teammates. Raheem Sterling, who I have coached, leads through his skill, his talent and his character. The stick that guy has had, and then gone on to become a top, top player, you can't tell me he's not a leader."
On the new University initiative that he is backing he added:
"We want to disrupt, to innovate, to offer a different type of University education. You can accelerate your degree, taking it over two-years rather than three. Courses and timetables will be more suited to the world of work, getting students ready for employment; we will be offering flexibility in our approach too, making it easier for young people who need to work part-time or single parents the opportunity to study with us."
Neville also spoke at length about his experience as the head coach of La Liga club Valencia.
"I may have failed, but I learned so much from that failure.
"The key failing were that neither me or my coaching staff could speak Spanish; I kept hold of players who wanted to leave the club, despite Sir Alex telling me to get rid of them; I didn't surround myself with experience, so all the management team were under 40; and I didn't have any kind of break the whole time I was there."
He conceded that he had initially underestimated the challenges of the St Michaels regeneration scheme but believes that having to go through a lengthy process and consultation exercise will result in an iconic development that Manchester will be proud of.
Event host Frank McKenna said:
"Gary was open, honest and entertaining. It was one of our best events this year, and we have enjoyed many. I think business leaders appreciated his focus on when he has not achieved what he would have wanted – and explained how to take the positives from those experiences and bounce back."
For further information about UA92 visit https://www.ua92.ac.uk