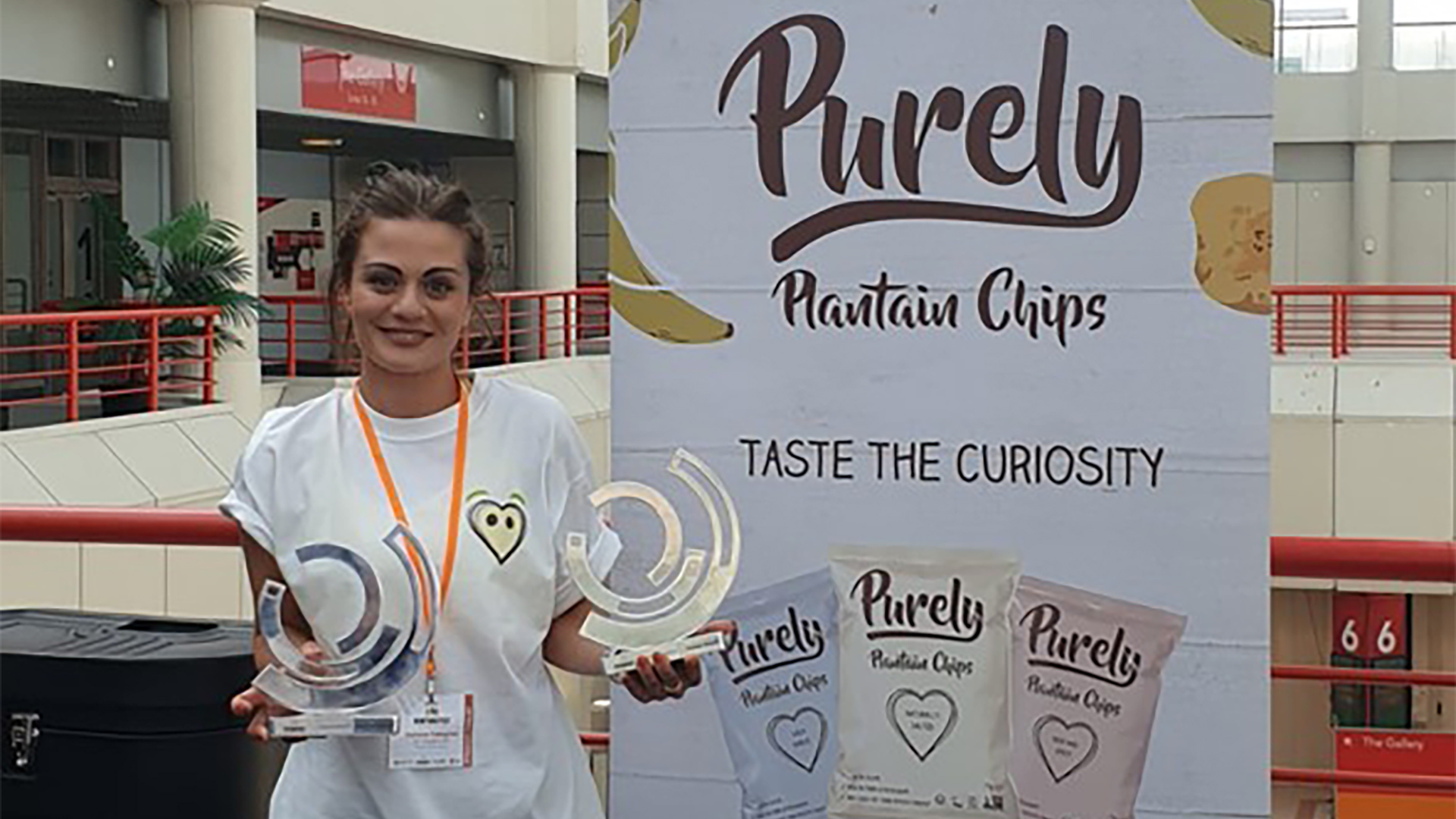 This has certainly been a 'step change' year for Midlands-based Purely Plantain in its ongoing, gastronomic quest to bring a small slither of honest, tasty World Cuisine to these snack-loving shores.
2019 has certainly seen a flurry of positive plantain-themed news, including an eagerly anticipated Fortnum's listing, the completion of NatWest's visionary fast track accelerator programme (Midlands) which resulted in Purely making the bank's Top 100 Power Up Index.
On the awards front a prestigious Best Snack award (Veggie Magazine) has already been bagged in addition to a finalist's slot at this Autumn's GB Entrepreneur awards (Midlands) and this September's Nourish awards gala which celebrates the next generation of 'healthier living' foods.
If that wasn't inspiring enough July saw Purely co-founder Stefania Pellegrino win Aston University's (Centre for Growth) prestigious 'Venturefest' event, (West Midlands) a dynamic, full throttle forum where can-do entrepreneurs are put in front of panels of learned regional investors, who to date have raised over £3m for the Midland's small business economy.
Plantain for the uninitiated is the humble, unassuming cousin of the highly energized banana, a savoury leaning native of India, S. America & The Caribbean.  Here is a fruit that behaves more like an assured vegetable, providing the perfect nutritious setting (rich in beneficial fibre, potassium, magnesium and vitamins A/B6) for other flavours, Wild Garlic, Nice & Spicy (chilli) and Lightly Salted to shine.
Purely was born following an impromptu food break taken by Stefania and her business partner Mark at an Ecuadorian café back in 2017, where she was enjoying a well-deserved time-out from her day job in Import/Export.
As a naturally curious soul, Stefania envisaged an 'at one with nature' snack that would tackle head on any old fashioned notion that snacking must always equate to uninspiring/nutritionally vacant grazing.  Here was a well-balanced , flavourful nibble with endless usage potential that exuded positivity, authenticity and worldly gravitas.
Over the last 18mths Stefania has assembled a young yet internationally diverse team that remains unfazed in its shared vision to persuade 'healthier minded' snack enthusiasts to broaden their flavour and ingredient expectations. Stefania knew from the very outset that it was imperative that her plantain chips stayed true to their authentic South American roots, leaning upon time-honoured cooking methods whilst supporting the local economy, which is why the entire operation from farming the raw crop to slicing, frying and packaging plantain is still managed by an expert Ecuadorian production crew.
No-one had to wait too long to find out how such a bold stance would sit with UK retailer, but she needn't  have worried because  her first open pitch competition resulted in a game-changing Planet Organic listing.
Further listings ensued with As Nature Intended, Selfridges, Harvey Nichs, Fortnums and a gamut of independently owned delis, cafes, farm shops and independent health food shops.   Here resides a 3-strong savoury treat portfolio with genuine, 'broad church' appeal.
On the one hand, Purely attracts a health conscious community reaching out for a gluten-free treat with a low sugar count and a lower fat footprint (30%) than traditional potato crisps. On the flip side, here's an exotic, worldly-wise bite bristling with enviable foodie values that could ingratiate itself to any number of high profile snacking environments,  from foodservice and gym vending machines to airlines, subscription boxes/hampers, the on-trade and even kids' lunch boxes.
Clearly this is a brand setting out, a 3-strong range that will require significant investment moving forward and an orderly influx of 'energetic disruptor'experts..  And yet, here's an attractive lifestyle snack overflowing with 'everyday appeal' that talks to both the clean-deck generation and snacking purists; a brand that's bedding down nicely in the UK whilst finding its feet  overseas (already exporting to Switzerland, Hong Kong & The Emirates).
There's no question that Purely has already achieved so much in a very short space of time and yet the gloves are now well and truly off because here is a brand with an insatiable appetite for success.