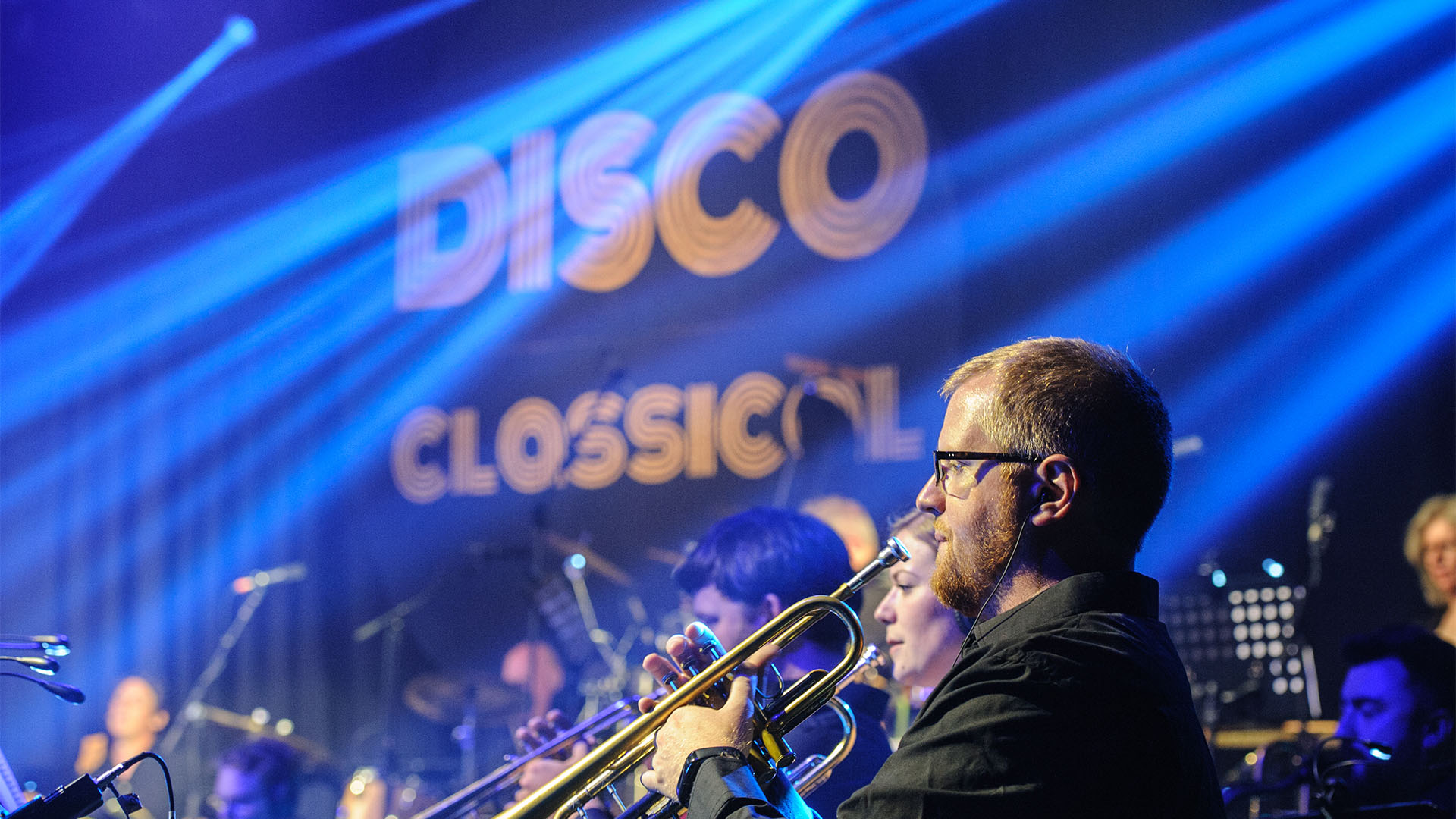 July 13th marked the opening of SK Event's first ever Disco Classical show, pathing the way for a series of potential future concerts. Set in the uber-cool Victoria Warehouse, attendees flocked to the venue, draped in flares and sequins to witness their all-time disco classics performed live on stage, with a 35-piece orchestra, DJ, band and singers. Following performances from much-adorned northern disc jockey, Mark Armstrong, "Britain's most audacious orchestra" Manchester Camerata and Justin Bieber supporters, MiC LOWRY, the iconic 70s group Sister Sledge graced the stage to wow fans with a collaborative delivery of their legendary hits such as 'We are Family' and 'Lost in Music'.
An infusion of orchestral and electronic sounds, the evening was an authentic throwback to 1970s disco – albeit, not just that. Whilst paying homage to disco's roots, the concert delivered transcending instrumental reworks that got crowds dancing and shouting until doors closed.
A stellar playlist that kept on delivering; the contemporary collation and execution of classics revived disco from the past and transported it to the present.
Musical prodigy, Tim Crooks – the orchestral conductor – ensured that the night was an evening of hit-after-hit, as he singularly curated each piece of music on the agenda. Each track was then executed innovatively throughout by some of the hottest local artists that included a special guest performance from the legendary Sister Sledge.
Cited as Liverpool's own version of Boys II Men, MiC LOWRY was a favourite for all ages at the event, as they audaciously put their R&B stamp on disco. Plugging harmonious takes on all-time classics, their euphonic delivery of Michael Jackson's 'Rock With You' sent crowds into bursts of hysteria.
Disco Classical singers, Manchester-based Dominic Lawson and Jenna G similarly raised the roof with their funky versions of Teddy Pendegrass' The More I Get the More I Want, and Prince's I Wanna Be Your Lover, uniting together for Dan Hartman's enormous hit classic, Relight My Fire.
Other highlights included Jaz Ellington's stunning versions of Barry White's, 'My Everything' and Chicago's Street Player, both of which were elevated to new heights by the phenomenal Manchester Camerata. And last but not least, Sister Sledge's closing performance of global hit 'We are Family' was the finale that we had all hoped for. The classic brought disco fans of all ages together with the pioneers of disco themselves; reflecting the essence of 1970s discotheques where partygoers rejoiced freely together, united by their love of music. A concert that saw floods of attendees drop shapes to some of their best-loved nostalgic songs and experience them like never before – an evening where thousands came together, made history and truly got LOST IN MUSIC.