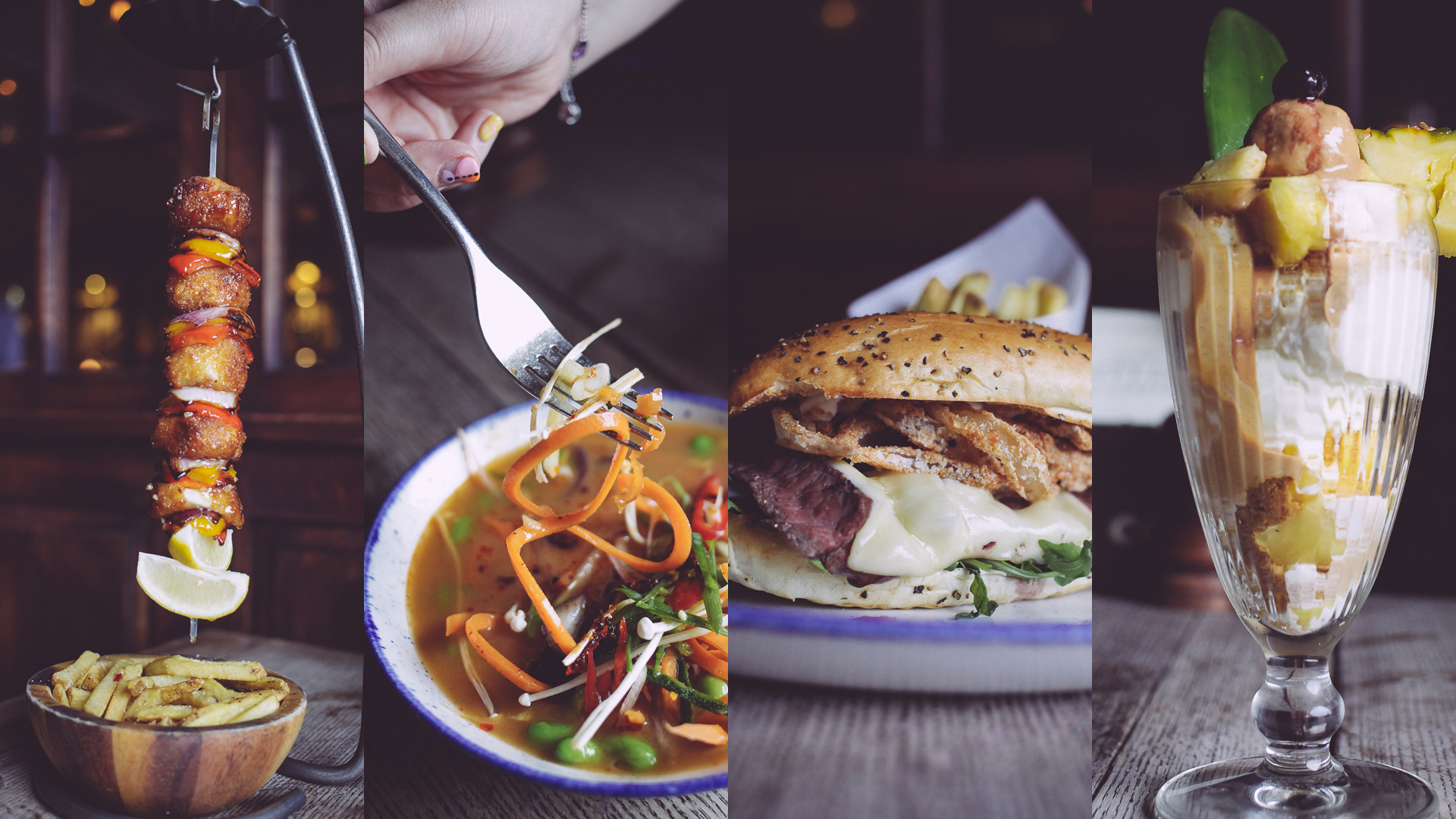 The Smugglers Cove at the Royal Albert Dock have been busy producing a delicious hearty new menu to tantalise your taste buds. The sunshine might have been a let-down so far, but the talented Chefs at one of Royal Albert Dock's most popular venues have created a host of new dishes that will illuminate your senses and take you on a culinary journey of magical tastes and aromas.
Our famous Hanging Kebabs™ have two new additions with a Crispy Halloumi (v) with sweet chilli, served with sage and garlic chips (£11.95) and Jerk Salmon with garlic butter and served with rice and peas (£13.95).
The Smugglers Cove burgers from the grill include our Cheeseburger, with shredded lettuce and burger sauce, served with sage and garlic chips (£10.95) and our Grilled Chicken Burger, with lettuce, tomato and truffle mayo, served with sage and garlic chips (£10.95) have always been popular choices, and our flavoursome new Beetroot Burger served with lettuce, tomato and truffle mayo, served with sage and garlic chips (£10.95) is a perfect addition to our meat free selection as well.
Our summertime salads include some colourful, mouth-watering additional selections, including: Roast Sweet Potato, Red Onion and Beetroot (DF/VG), with candied walnuts, orange, poppy seeds and viola dressing (£9.95), Crispy Coronation Chicken, with toasted almonds, mango chutney and poppadom (£10.75) and Chargrilled Halloumi (V) with roast vegetable quinoa, jasmine figs and buttermilk dressing (£10.75).
Whatever the weather this summer, The Smugglers Cove have it covered, from traditional favourites including Beer Battered Fish and Chips, served with mushy peas and tartare sauce (£12.95), Mother Redcaps Signature Scouse*, a hearty lamb stew, with a side of bread, picked beetroot and brown sauce (£11.95) – or take your pick from the popular new dishes below:-
For those with a hearty appetite and a passion for puddings The Smugglers Cove Sundaes are worth saving space for. They taste every bit as good as they look and there are three sensational sundae selections to choose from:-
A stunning new food menu, delicious cocktail menu and amazing views across The Royal Albert Dock – what are you waiting for?
For the full menu please click on the link below:-
https://thesmugglerscove.uk.com/menus
Telephone:- 0151 703 6555
* Mother Recaps' Signature Scouse
Named after the Mother Redcap tavern that guarded the Mersey shore in the 18th Century. It's owner, Poll Jones, protected Smugglers' treasure whilst they were out at sea!