With talk of levelling up and investment in the North, Richard Bayley a cities and development consultant from Atkins, shares his thoughts on why local communities should have a voice in building back better.
Recent events have caused many of us to reflect on where we are in societal terms, both individually and collectively. They have also been a catalyst for change, in many cases positive, including the advances made by the science and technology sectors.
What has been interesting is people's views on where they live, how they work and what is important to them concerning their leisure or downtime. It has become apparent to many people that "places matter" more so than they may have done.
So how can we transform places into what society needs them to be in the future? Is it about a wholesale redesign and redevelopment or a transformational approach? Is it simply about 'levelling up' in whatever form that investment may take?
Arguably the answer is and should be much simpler. Every place has a uniqueness routed in history, its commerce, its geography and its people or communities. There is no 'one size fits all' approach, however, there is a formula that has existed for centuries which leads to the evolution of places, enabling them to function successfully in a future world. The centre piece of that formula is the people that live there. People matter because, quite simply, they are the heart, soul and driving forces of places.
Atkins and Faithful+Gould have been working with towns across the country, especially in the North of England, to help develop Town Deals and Levelling up submissions to Government. Many of these towns have a fantastic industrial and cultural heritage. But historically, they have not had the investment and focus that enables them to evolve and have lost their way a little over the last few decades as a consequence.
Our approach has been to focus on understanding what matters to the people that live and work in these towns. We have intentionally taken a 'back to basics' approach with the formula to explore how you can develop the following elements of what we describe as a 'circular economy' (see diagram below) to deliver a thriving town:
Economic growth: re-energising the 'engines' of towns through revolving investment funds that are intentionally designed to kick start the industrial and engineering sectors and, by so doing, underpinning the retail and residential redevelopment within the town centres. In essence, it is about applying a defibrillator to improve the 'beating hearts' of the towns to reduce unemployment and increase footfall;
Towns centres and infrastructure: projects to improve the connectivity and movement, including active travel to allow better access and to spread the economic benefits around the towns and into surrounding communities;
Education and skills: projects to increase essential education and technical skill attainment levels and better equipping people to enable them to support the future growth of their towns and reduce unemployment and deprivation levels;
Health and wellbeing: creating new 'one stop' centres located within the towns that enable people in the communities to access a range of physical and mental health services and improve life expectancy levels;
Community facilities: an investment fund to provide grants for local charities and communities to improve facilities that support social activities so that people feel part of a diverse and thriving community and remain living there.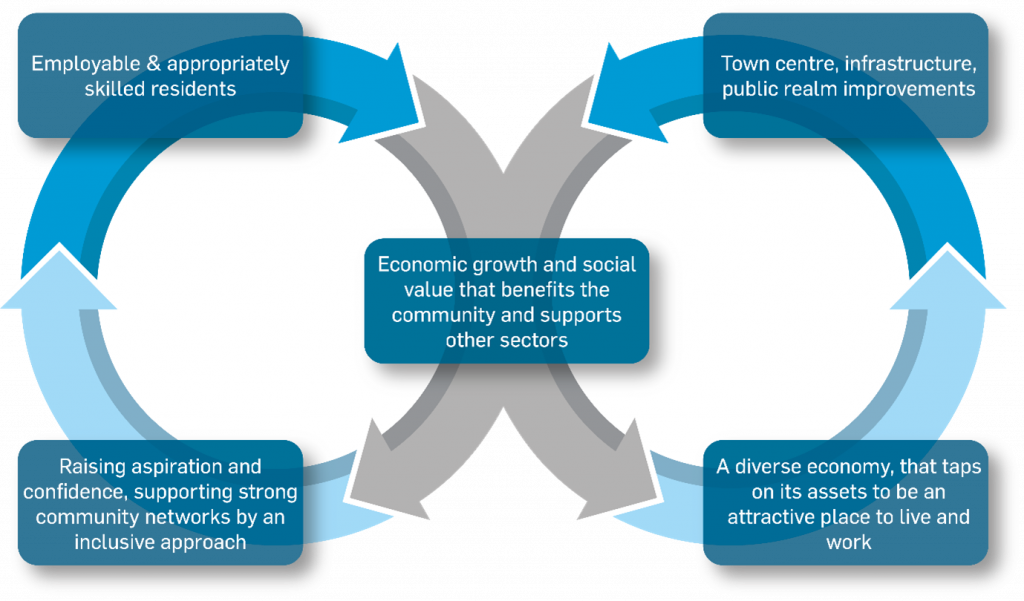 There was a 'cross cutting' assessment of how we could embed and sustain carbon reduction and create social value across all of those elements.
Most importantly, the formula required comprehensive community engagement (e.g. online surveys) and participation (e.g. focus groups), so we ensured we designed all of the elements to work for the places or towns concerned. What is clear is that we as an industry and as a society need to improve the way under-represented groups, especially from the BAME community, are engaged. In conclusion, yes, investment is important but what is crucial is the formula applied to channel that investment and enable places to evolve and function better in a changing world. Comprehensive community engagement and participation remains the most vital component, as the people that live in those places are the ones that will make them work. In years to come, history might reflect that the pandemic changed the world but the formula for changing our places should remain the same.
This article first appeared in DQ Issue 20.