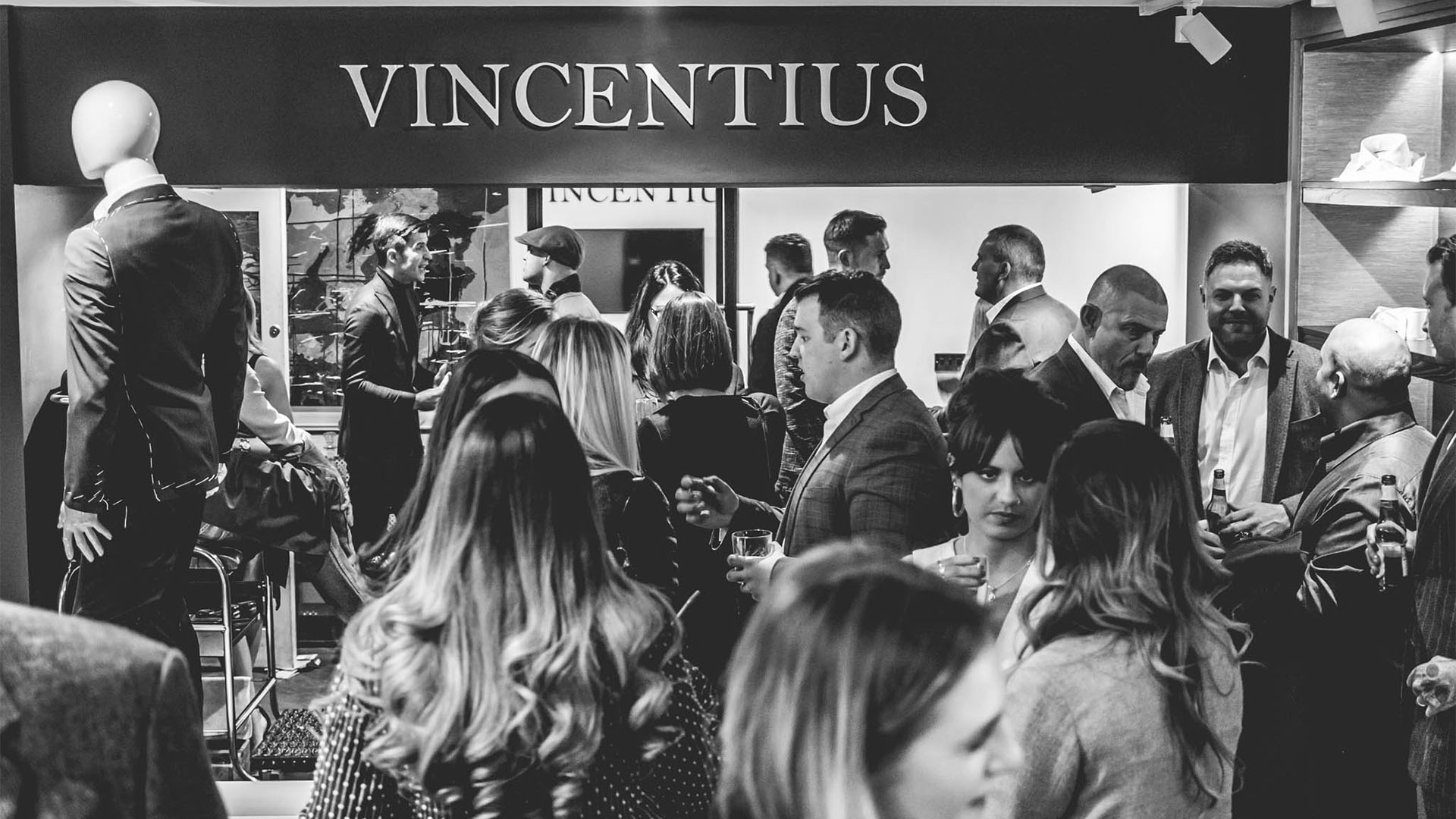 A new independent luxury tailoring brand launched recently in Liverpool city centre. Vincentius Bespoke, based on 9 Queen Avenue in the heart of the cities thriving business district. Vincentius create handcrafted suits, bespoke shirts, handmade ties and footwear which can be designed by the client themselves. Combining the best of old fashioned  methods of tailoring intertwined with new technology Vincentius Bespoke is personal luxury brought into the 21st century.
Over 100 guest enjoyed product displays from Vincentius who demonstrated how handmade shirts are made. There was displays from Dormeuil. Guests where also shown the design and creation process from Vincentius master tailors. Offering  products from full suits to shirts and footwear with a modern twist.
The brand has already dressed the likes of Kenny Dalglish, Stephen Gerrard and Darren Till as well as numorous clients from businessmen to those dressing for their big day. Darren Till, the Liverpool  MMA fighter was in attendance and said. " I  have found the team at Vincentius to not only be extremely knowledgeable but also very helpful in guiding me through the whole process."
Vincentius Bespoke Tailoring can be found on Liverpool's hidden shopping street , Queen Avenue, off Dale Street and Castle Street. The brand new showroom has combined old and new design to fit in perfectly with its Grade II listed surroundings. Guests where served drinks and canapes on the night including the recently launched cocktails Bottle by Berry which is another brand owned by Director of Vincentius Tom Hardwick.
Behind Vincentius Bespoke are two Liverpool brothers, Thomas and Robert Hardwick. They had noticed that men who appreciate the finer things in life struggle to find modern, quality tailoring. In a bid to fill the market gap, they joined forces with luxury menswear experts Rich Gregson and Rob Tattan and Vincentius was born.
Director Rob Hardwick commented " We have actually been working with clients in Liverpool as well as up and down the country for several months now. Tonight though was all about the official opening of our first showroom in the heart of Liverpool. The response has been fantastic. We all know Liverpool people like to dress up and we also design  womans jackets, blazers, shirts etc….as well as a bespoke service for children. We look forward to bringing our first class customer service and product range to our customers."
See https://vincentiusbespoke.co.uk/ for more information.