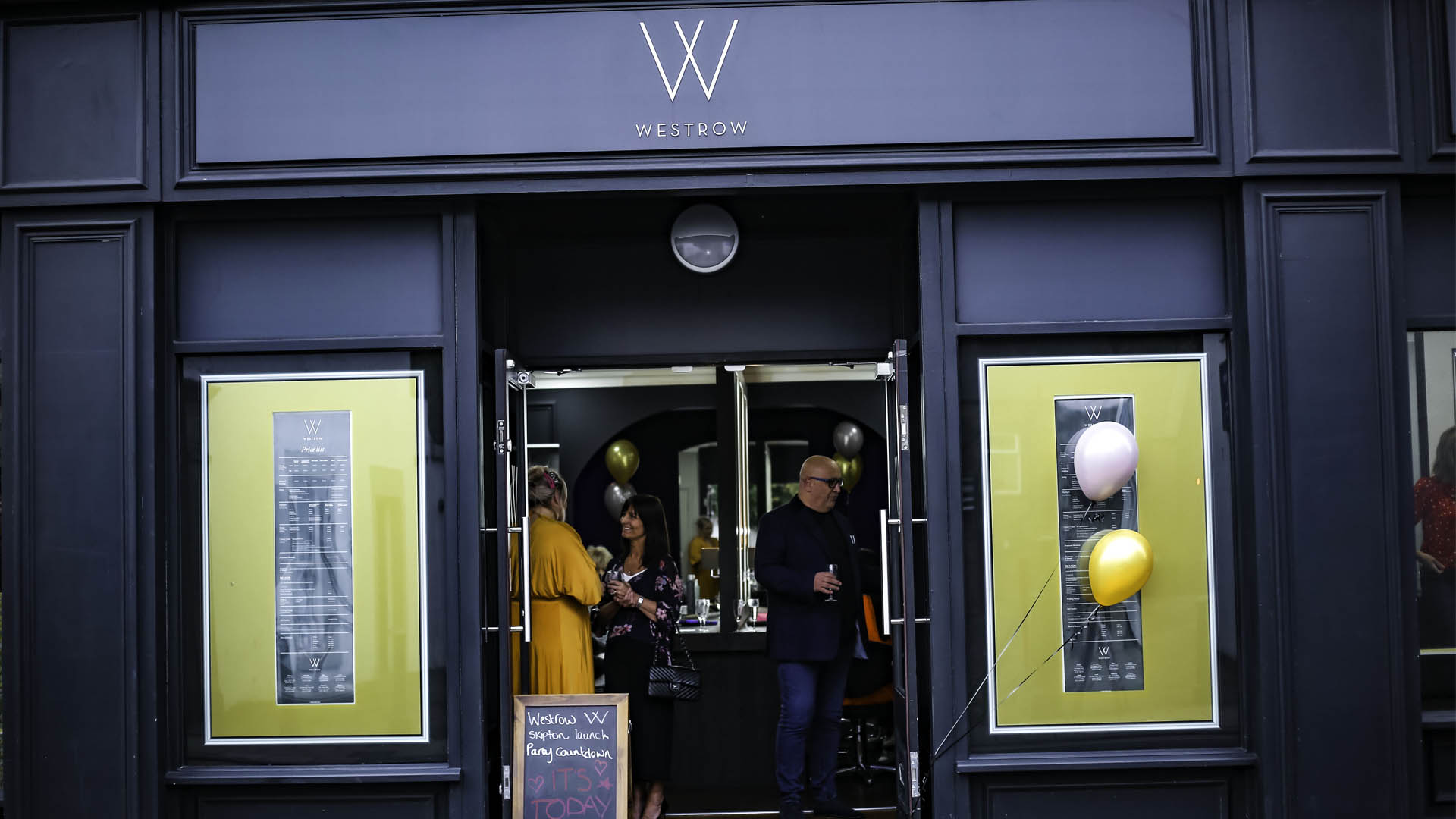 Westrow, the multi-award winning Yorkshire-based salon group with ten salons across the county, has celebrated the re-opening of its unique Skipton salon, with a glamorous re-launch party. The event was an exciting celebration of the re-launch of Westrow Skipton, the first lifestyle salon in Westrow's portfolio and a unique addition to the Skipton area. The glitzy party also served as an introduction to Westrow Skipton's new Franchisee, the award-winning Laura Procter.
Westrow Skipton, which is located on Newmarket Street in the heart of the thriving town, originally opened its doors back in March 2017. As the largest of all the Westrow salons Westrow Skipton spans two floors and more than 2,500 sq ft of salon space – making it a welcome addition to the area.
Offering the full Westrow hair service, as well as a luxury lifestyle area for clients to experience the products and services on offer, Westrow Skipton quickly made an impression on the residents of the West Yorkshire town.
The re-launch of the salon, which is now headed up by the award-winning Laura Procter, also Franchisee of Westrow West Park, is expected to bring back a buzzy city-centre vibe to the thriving market town, with Laura planning to inject a new lease of life into the salon. With new salon manager Sebastian Mckenzie at the helm, Laura plans to continue to offer the same award-winning hairdressing service that Westrow has become synonymous with. In addition, Laura intends to launch an exclusive new additional service menu of express beauty treatments in the near future.
The evening re-launch party, which took place against the backdrop of the salon's glamorous interior, was a suitably chic event attended by Skipton's style set, where guests were invited to try out the salon's services, while enjoying drinks and canapes. Local radio station, Stray FM, also joined guests on the night, covering the event, and the new Mayor of Skipton, Councillor Peter Madeley (pictured middle left), was also in attendance to officially re-launch the salon. Guests were also joined by the talented teams from both Westrow Skipton and Westrow West Park, who treated guests to a range of complimentary styling services. The event, which proved a huge success, marked the exciting re-launch of the business, while providing the ideal opportunity for local businesses and locals to see the deluxe freshly re-launched salon and meet its award-winning team.
Marc Westerman and Steve Rowbottom Co-Directors, Westrow said: "The success of Westrow Skipton's re-launch party is, we hope, a sign of things to come for this salon. Backed by an award-winning new Franchisee and under new management, we fully expect this unique lifestyle salon, with its bespoke design-forward interior, its talented team, and its commitment to delivering the Westrow way, to make its mark on Skipton and its residents and to continue to raise the bar in hairdressing across Yorkshire."
Laura Procter, Franchisee, Westrow Skipton said: "I'm thrilled to take over the Westrow Skipton Franchise. I've been Franchisee of Westrow West Park for the last 13 years, and look forward to injecting some of our team's talents into this salon, to cater for the discerning clientele from Skipton and beyond."