Yes, you read that right! Entyce Creative has been shortlisted for 5 awards at the Prolific North Champions Awards 2023:
· Digital Agency of the Year
· Independent Agency of the Year
· B2B Campaign of the Year
· Video of the Year
· Outstanding Young Rising Star Award – Kirstie Jones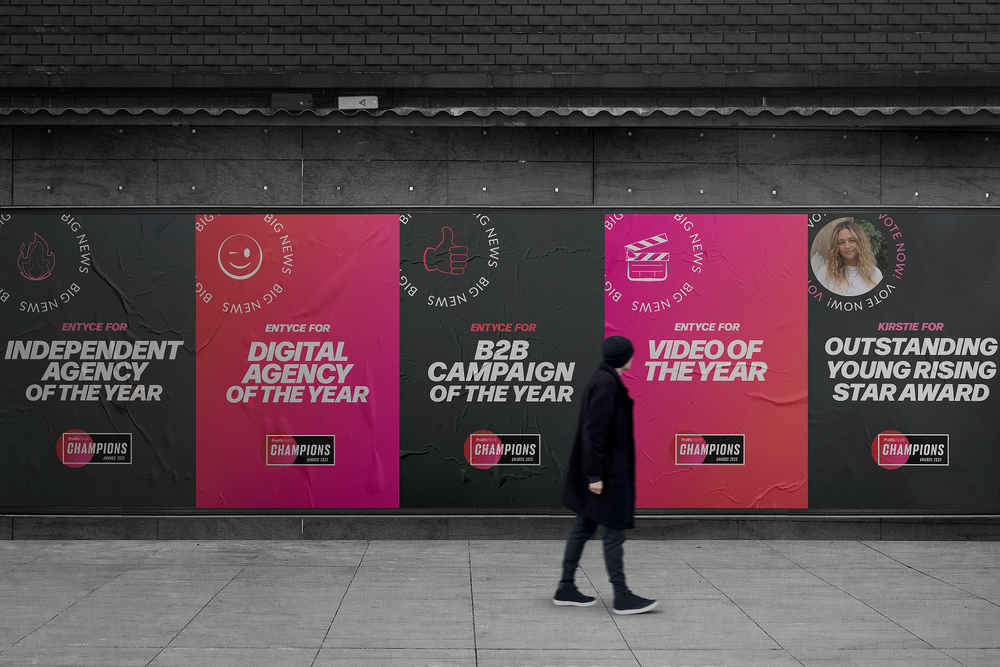 Our nominated B2B campaign, 'Do It Your Way' was created for long-standing client, invoice finance and back-office support specialists, Zodeq. The aim was to attract the ever-growing number of recruiters looking to set-up their own business and comes hot on the heels of Zodeq's previous campaign, 'Now Is The Time' (also a brainchild of Entyce) which was nominated for a Drum award late last year.
The video nominated for 'Video of the Year' was created for our long-standing client, SIMIAN – leading health and safety training and consultancy for the scaffolding and construction industry. It tells the story of Rianne, a trainee scaffolder at SIMIAN's London Academy of Sustainable Construction and highlights the importance of diversity in the industry and the vital support given by training providers such as SIMIAN.
In addition to the success of our first 4 nominations, which have all been very much a group effort, the Entyce team is also celebrating our Midweight Designer, Kirstie Jones who has beaten off fierce competition to be shortlisted for the Outstanding Young Rising Star Award. Unlike the others, the winner of this category is decided by a combination of judges scores and public voting – and this is where we need your help! Please take a minute to vote for Kirstie here.
The award nominations come at a time of incredible success for the agency, who recently celebrated 15 years in business. We are all incredibly proud of our achievements and are looking forward to celebrating as a team at the awards ceremony on the 18th of May at Old Trafford, Manchester. Wish us luck!