Courtney Recruitment are strongly advising businesses to reassess their offering in what is an historically competitive marketplace as we enter 2022. A candidate-short arena means employers are rethinking how they attract, onboard, and retain excellent employees.
Recent reports by the Recruitment & Employment Confederation (REC) indicate three key findings, including steep increases in permanent placements and temporary billings, candidate availability falling, and substantial pressure on starting pay.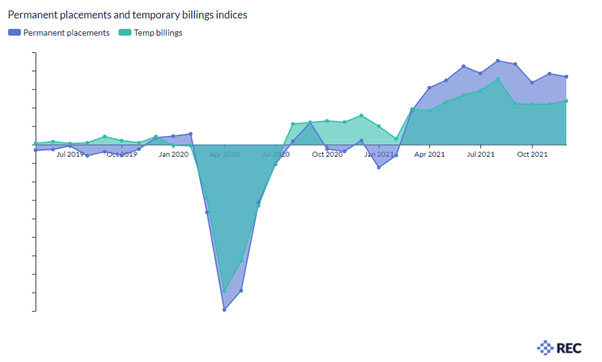 Elaine Courtney, Director at Courtney Recruitment said "We work with many businesses across the region, recruiting as and when they need to hire. However, the conversation, and process has changed of late. It has become very apparent that the shortage of people looking for work now has driven a need to adapt recruitment practices significantly, in terms of timescales and sourcing methods. What is more noteworthy is that job seekers seem to be looking more closely at their next potential employer, and more carefully considering if this is the type of company they want to join; the job seekers are also more vocal in the conversation regarding remuneration."
The recent REC report highlighted the following:
Starting salaries for permanent workers and temporary hourly pay continued to rise rapidly in December, with the respective rates of inflation holding close to record-highs. Panellists frequently mentioned that starting salaries and wages had risen as demand for staff continued to outstrip supply.
https://www.rec.uk.com/our-view/news/press-releases/report-jobs-recruitment-activity-continues-rise-sharply-december
Elaine continued "This, coupled with a fiercely competitive market means we are encouraging businesses to be clever about their employee attraction packages, the interview process, the onboarding process, and importantly as well their staff retention efforts. To gain any advantage, employers need to think about how to become an employer of choice, and about how to ensure that they can offer job seekers not just a job but a satisfying role at company that feels like the perfect fit. It's like a whole new playing field out there now, and something for which the Courtney Recruitment and Courtney Executive team are happy to help businesses strategise to ensure successful placements"
Courtney Recruitment, established in 2015 and their sister Courtney Executive brand launched in 2021 work with large and small businesses via their unique twenty-six stage process to place candidates from office support staff through to Directors and Senior Leaders, with a 97% fill rate, much higher than the industry standard. And with the need to work smarter and move quickly to fill vacancies, the Courtney team are encouraging those struggling to find suitable candidates to rethink their strategy and seek advice from a recruitment expert. Elaine concluded "Even if you are not ready to recruit just yet, my advice is to start your planning now, start earlier than you typically would, seek advice from someone who understands and operates within the employment market on a day-to-day basis on how to adapt your recruitment strategy and implement it now!"