Lufthansa and Liverpool John Lennon Airport (LJLA) have celebrated the one-year anniversary of the Star Alliance member's route between Liverpool and Frankfurt. The carrier, which will soon increase capacity on the Liverpool-Frankfurt route from four times weekly to six times weekly, has been an instrumental part of supporting LJLA's position as being the key gateway to the Liverpool City Region and wider North West, opening up the region to the wider world.
To mark the occasion, LJLA presented a lucky passenger with two free return flights to Frankfurt from Liverpool. Emma Taylor was travelling via Frankfurt to Cairo where she works as a teacher and had been visiting her parents in Liverpool.
Since beginning operations from LJLA on 2nd May 2022, some 18,000 passengers have flown with the airline from Liverpool, travelling not only to Frankfurt, but connecting onwards to popular destinations including Bergen, Berlin, Budapest, Cairo, Hamburg and Zurich in Europe, along with further afield cities such as Cape Town, Johannesburg and Sao Paulo.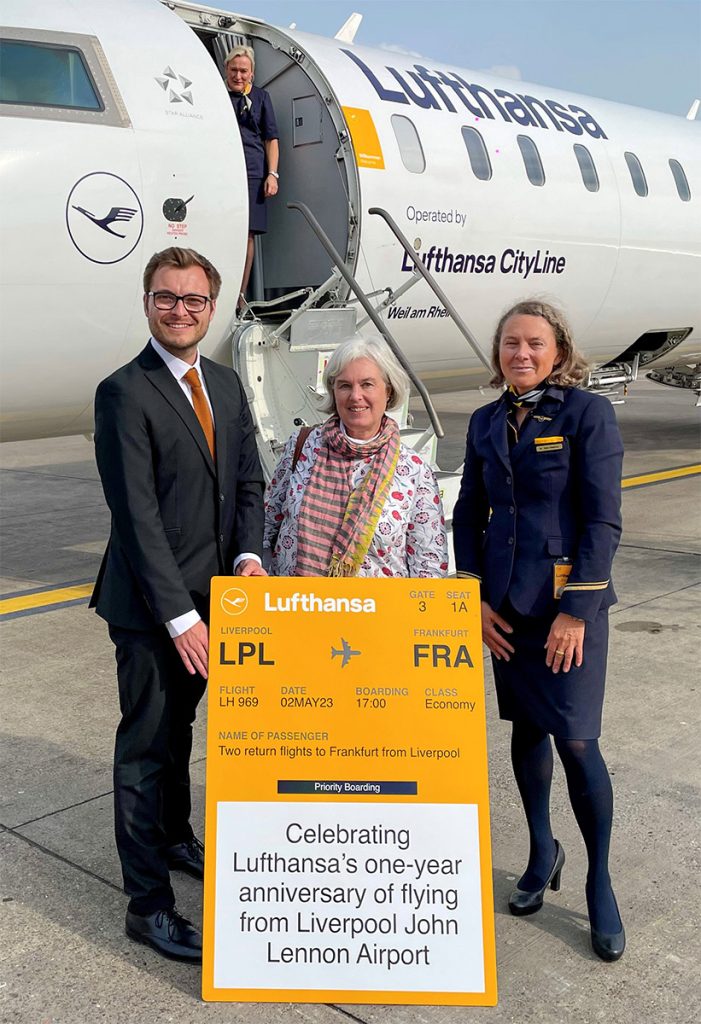 Marking the one year anniversary, Paul Winfield, Aviation Director at LJLA, commented: "Lufthansa has been a tremendous partner of the Airport since commencing flights this time last year. The airline has been positively received in the region not only by passengers, but also our supportive stakeholders who have got right behind the route and carrier to make it a true success.
"It has also been a good news story for the region's visitor economy, further opening up access for visitors to the Liverpool City Region, the North West and North Wales and great timing ahead of the forthcoming Eurovision Song Contest which has even resulted in Lufthansa adding more capacity with larger aircraft operating on the route over the next few weeks to meet inbound demand."